Eye Drops for Cataracts
Jenny, Manchester
I have been plagued with chronic corneal tears, abrasions, and dry eye since January. I finally changed doctors, and he prescribed Restasis, which gave me some relief, but my vision continued to worsen. My tears were "cloudy." Last week, after some research online I decided to give Ethosheaven products a go. It has been a miracle! I don't feel like I have sand in my eyes, and my vision has improved. I cannot believe what a difference this has made in reducing my pain. I cannot say good enough things about ethos bright eye people.
E Lynch, June 2018
I have had overproducing tears severe watery eyes for about 3 years. I have tried hot water soaks, antibiotics,and cream on both top and bottom eye lashes on both eyes over night while sleeping. The cream really helps my crusty eyes and soreness on the sides of my eyes, and I sometimes have to struggle with washing my eyes to remove the crusty build up. I tried Systane Eye Drops, warm compress, and some days just not getting any relief. I begin to wonder if anyone else out there with Dry Eye condition has overproduction of tears as severe as mine. I tried Ethos Bright eye for two months, and the watery dry eye is almost normal. No longer using eye drops! Thanks so much.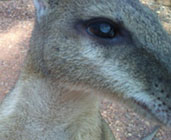 Sept 2015 - Jenny Garner
KENNY THE Wallaby HAS CATARACTS!!
NEVER FEAR - ETHOS BRIGHT EYES DROPS TO THE RESCUE!
The wallaby's name is Kenny...
I had a look at the ethos drops for cataracts websites and saw the testimonial on Joey. Well, this is where I found out about the Bright Eyes drops originally. Another Wildlife carer here in the Northern Territory, had spoken to the Broome Wildlife Sanctuary, and had recommended me to try the drops as they had had success. I have taken a couple of photos this morning 16/09/15 for you to have a look at. Have you ever tried to take a photo of a wallaby, especially when he doesn't want to sit still (Hahaha lots of fun).
Thank-you again for your offer.
Graeme and Aileen Brown, Tasmania
I recently purchased Cataract Drops for our little dog. We live in Tasmania (Australia) and unfortunately she passed-away before the 'Drops actually arrived. We advised Ethos Heaven and was delighted to learn that we were able to return the un-opened product and obtain a refund. It is gratifying to know that we were able to deal with a company on the other side of the world and receive the excellent service experienced with our transaction. Our sincere thanks for everything.
Mark, Brisbane AUS
I was actually booked in for an operation on my cataract when I found the bright eyes cataract drops through a family member. I had exhausted any other options throughout the last year and a half so I didn't have much hope for these drops. However since my operation was booked for two months later I thought there is no harm in trying in the meantime. Strangely enough after the first three weeks the clouding on my eye had thinned out slightly, this even slight progress was much more than any other treatment had given me. Slowly but surely I saw improvements and enough so that I was able to cancel my operation. My eyes will never be 100% but my sight has cleared a lot and I'm very pleased with a results and also that I didn't need to have the operation. I am still using the drops and will continue to until I feel they are not needed anymore.
Jane, Blackpool UK
Great product, fab thanks so much everyone on the team that helped me xx
Miles, Brighton UK
I have been using the bright eyes cataract drop on my husband for 6 weeks now 3 times a day. Once in the morning, once in the afternoon and once at night and the blurriness is lifting. He has gone from not being able to see the time on a clock out of one eye to being able to see it as long as it is close to him. I think we will buy another 4 week course and see how much they improve after that.
Simon, New Zealand
Really didn't expect these to work as well as they did, very nicely surprised!
Juliana, South Carolina US
AMAZING! Tried so many products for my eyes but these bright eyes cataract drops are the only ones that have worked. Other products have promised a lot but not had any results. With these drops I saw a noticeable difference in my sight and my eye colour after 5 weeks! I'm definitely going to keep on using them!
Katie, Australia
My ophthalmologist diagnosed me with a cataract in my left eye when I went for an eye test a few months ago. Although I had not noticed the symptoms myself he warned me that if I didn't treat it now it would develop and eventually affect my sight. I did a little research and found the bright eyes cataract drops. I used them 5-7 times a day for 2 months and when I went back to my ophthalmologist he said there was no trace of any cataract anymore.
Aug 2015 - Douglas F Thorpe
We have a 9 year old cavalier king Charles spaniel with failing eyesight in one eye due to cataracts, the other eye has had an ulcer on the cornea $3200.00 AU Dollars at the vets to repair which failed and left the dog with a white disc in his eye

My friend who keeps horses recommended " Bright Eyes " to me as she has had good results in the past On using the product (half way down the 1st bottle ) there is a marked improvement in the dogs eyesight, the white disc is nearly gone and the other eye is clearing up nicely, it is early days yet, but he is not bumping into trees any more. Many Thanks
May 2015 - Carmen Allen - New Zealand
I have been purchasing the Bright Eye Cataract Drops on behalf of my mother. She was told by her optometrist that Cataracts are forming and she is reluctant to have surgery to correct her eyesight. She has been using the Bright Eye Cataract Drops and reports that the preparation seems to be working, stating that her eyesight is clearer and sharper. She also said that she used to see a "halo" around lights at night, so she is not able to drive in the evening. The Bright Eyes product seems to have removed that blurred effect, which she described as being like a "halo". Overall she is very happy with the results.
Carmen Davis - Kitsap County USA (May 2014)
Prior to using BRIGHT EYES DROPS FOR CATARACTS, I saw hazy translucent-like white spots going across my line of vision and these spots seemed to get bigger with time. I finally went to see an ophthalmologist and he tried to convince me to have these cataracts surgically removed. That would have cost my insurance company $5000 per eye. I did not like the idea of invasive surgery, so I did a thorough search of the internet and found your company:

REFERENCE MY FIRST ORDER DATED February 3 2013:

RECEIVED THE ORDER FROM ETHOS SCHWEIZ LLC, RUE du RHONE 14, 1204 GENEVA, SWITZERLAND SOME TIME LATER.

Upon receiving my order, I immediately began applying 2 drops of BRIGHT EYES in each eye 2-3 times every day. Each time I would apply these drops, I would keep my eyes closed for a couple minutes afterwards. It was about the 4th week, I believe, that the cataracts gradually started to disappear from my line of vision. Even after finishing up with the drops, the cataracts continued to fade and it was by the end of the 2nd month that I noticed there was no trace of cataracts. It was just in the last few weeks of this month (May 2014), I started to notice a cataract in its early stages in each eye. So that was when I decided to order more of your eye drops.

Carmen Davis - USA - 31ST August 2014
UPDATE I should have sent this 6 weeks ago:
The BRIGHT EYES DROPS FOR CATARACTS have totally cleared up the beginnings of a cataract in both eyes. Also, there was a side benefit. I was suffering from dry eyes and eye strain due to overuse of the computer. I went to 2 eye doctors and their eye drops irritated my eyes even more. But to my surprise, your Bright Eye drops alleviated both the dryness and the strain for which I am very grateful.

Thomas Johnson - ADELAIDE
After using Bright eyes drops for my eye cataracts for 3 months, I made an appointment with my eye specialist to see if my cataracts had deteriorated or got worse I really did not want an operation as I'm 76 years of age. Originally my right eye was considerably more affected than my left eye. I used the drops 6-7 times a day in both eyes after 1 month I saw a slight improvement in the right eye but a significant improvement especially in my left eye. My ophthalmologist confirmed this improvement and told me to continue with whatever I was doing as it seemed to be working.
Lilly Whitehead - COOKTOWN
I started using ethos cataract eyedrops in 2012 because my ophthalmologist recommended them to me after a cataract started to develop. When I came to the Australia from the UK I could not find an Australian distributor of these wonderful eye drops. After trying some other less known brands that didn't work (mention no names), I decided to look online and found this wonderful website and ordered them immediately. The cataract is nearly dissolved completely now and I have cut down my dosage to 4 drops a day in each eye. Buying them in bulk really saves you money long term also.
Rosalie Taylor - CANBERRA
I suffer cataracts, and cannot bear the feeling of blurry vision and not being able to play with the grand kids. I have recently had a fall while at home and broke my hip due to bumping into the side board. I tried Can-C after my daughter brought them for me but after 3 months using them as directed I couldn't see any improvement. I contemplated surgery but after getting an infection while in hospital with my broken hip I decided against it. Then my brother who also has cataracts in the UK sent me over 6 boxes ethos bright eyes to try, to my amazement after just 2 weeks the haziness in my left eye started to diminish and I could watch TV better. My right eye cataract didn't really start improving till after 4 months use, hopefully after 6 months use the vision in my right eye will be just as good as my left. Now I recommend ethos bright eyes as the way forward to my friends at the over 60s social club, and I literally go nowhere without them for a period time. My eyes seem fundamentally better since I started using them. I wholeheartedly recommend them to anyone!
Eye Drops for Cataracts for Pets
Robert Burchell, USA
Hi there, Just to let you know that even before 1 week has lapsed, I am seeing dramatic reduction in my dog's cataract. It's gone from a streak across the eye to a central dot and it looks like it's dissipating. Having the vet check tonight... she is also very surprised and wants to see the results... She saw the dog about 2 weeks ago and said it would get worse... Seems like it's getting better. Will be calling to order more in a day or so... Rob
James, Australia
Absolutely great, worked really fast for my dog and were really easy to apply.
Lydia Manchester UK
My 11 year old cavalier king Charles had a number of problem due to old age such as diabetes, arthritis and most recently cataracts. The vet believes that his diabetes is a large cause to the eye issues. We were told that an eye operation would be the best option but because he was so old we didn't think he would make it through an invasive surgery and we wanted as little stress for him as possible. Came across 'bright eyes' and everyone's reviews sounded good so we gave it a try. Pleased to say it worked well and after using putting the drops in his eyes every day for just over a month we started to notice a difference. He wasn't bothered by us putting them in which is all we wanted. Hopefully his eye sight will come back fully soon if we keep using them.
Natasha, Anglesey UK
Fab products, saved us from expensive vet fees and stress free for our dog.
Jenny Goolwa, South Australia
Very happy with how our cats eye has improved with the bright eyes cataract drops. Been using them for 2 months 3 times a day and the problem has nearly gone.
Brad, Queensland Australia
Didn't want to put my little handsome man through something traumatising like an op so the bright eyes drops were definitely a better option. Results have been great so can't really ask for more.
Lesley Parker and her dog Snuggles - BROOME
Ethos cataract drops for Pets is a great product. I made the mistake of buying a cheaper product and it didn't work at all. These drops didn't only clear up by dog's cataracts, it made her quality of life so much better. I love this product! I would recommend to everyone.
Stacy Jones and her dog Milly - SYDNEY
I had been buying this product for 2 months now from ethosheaven in the UK but found this very expensive with postage and had to wait 10 days for delivery .I have now found this website for pet cataract drops in Australia selling the same product. I use bright eyes each day before I take milly for her walkies its great seeing her run around again with her dog friends in the park. A super product which really works, I will definitely be ordering again.
Jill Davison and her dog Poppet - UNITED KINGDOM
I have a boxer dog called Poppet. She is now 11 years old. Boxers have a tendency towards eye problems because of the bulging nature of their eyes and because they are stupid and don't quite get the concept that they can actually go round things! A few years ago, Poppet had a corneal ulcer in her eye. These are awful as the ulcer eats into the eye and they are incredibly painful.
Coventional treatment involves eye drops and scraping the edges of the ulcer to encourage new cell growth (a simplistic explanation) If this fails, which it frequently dose, the next stage involves sewing the eye shut in the hope that the eye heals behind the lid, Unfotunately, the healing process (if any) cannot be monitored as the eye is sealed shut- usually for a few weeks. Poppet went through all these stages and, luckily, her eye did heal because the last option is removal of the eye.
Obviously, this was all extremely traumatic for her and three weeks with a boxer in a Buster collar is no joke! Scraped walls, things knocked flying and a plastic cone which nicely fills up with boxer slobber! All good but then, after a while, she got another ulcer in the other eye. This one was much worse and the eye drops from the vet seemed to burn the eye and the scraping was so painful for Poppet. At the point when the vet said she wanted to stitch up the eye, I decided to do some research and discovered your site. After a lengthy telephone conversation, I decided to give the Re-vital eyes drops a go.
Well, I am pleased to say that the ulcer has gone without any vet intervention. There is some scar tissue but the ulcer has definitely healed. Whereas I was putting the drops in frequently throughout the day, now I do them morning and night as maintenance. Poppet still gets very bloodshot eyes, particularly when tired, but when that happens I just put the drops in more often. The drops are not cheap but neither are vets and, at the end of the day, I just wanted Poppet to be well.
I really recommend that people give the drops a try- have a bit of faith! I don't care why they work or what's in them- they work!! My mother (85 years old) now has them do for her streaming eyes so watch this space!